ABOUT UUM COB
ABOUT UUM COB
UUM College of Business or also known as UUM COB is one of three academic colleges in UUM. UUM COB was established in 2012 following a massive restructuring exercise in 2011/2012, where all UUM faculties were reorganized under three main academic colleges, namely, the UUM College of Business (UUM COB), the UUM College of Arts and Sciences (UUM CAS), and the UUM College of Law, Government, and International Studies (UUM COLGIS).
The UUM COB is made up of six business-related academic schools namely, the Tunku Puteri Intan Safinaz School of Accountancy (TISSA), the School of Business Management (SBM), the School of Economics, Finance and Banking (SEFB), the Islamic Business School (IBS), the School of Technology Management and Logistics (STML), and the National Golf Academy UUM (NGA UUM). The UUM COB is headed by an Assistant Vice Chancellor (AVC) who reports to the Deputy Vice Chancellor (Academic & International). AVC is responsible to oversee all schools under the UUM COB in achieving the University's mission, vision, and strategic planning.
Besides academic schools, there are two units established under the UUM COB, which are AACSB Accreditation Unit and UUM COB Postgraduate Studies Unit. These units are headed by Directors and report to the AVC. Both units oversee matters related to AACSB accreditation and UUM COB postgraduate programmes, respectively.
Year 2016 marked a milestone for UUM COB, when majority of its undergraduate and postgraduate programmes attained accreditation from the Association to Advance Collegiate Schools of Business, also known as AACSB International. AACSB accreditation represents the highest standard of achievement for business schools worldwide. This international recognition has placed UUM COB in the same class as other business schools around the world.
To be an an eminent College of Business
To advance business knowledge and develop leaders with holistic characteristics to serve the global community
Educating tomorrow's business leaders today
ORGANIZATIONAL CHART
ORGANIZATIONAL CHART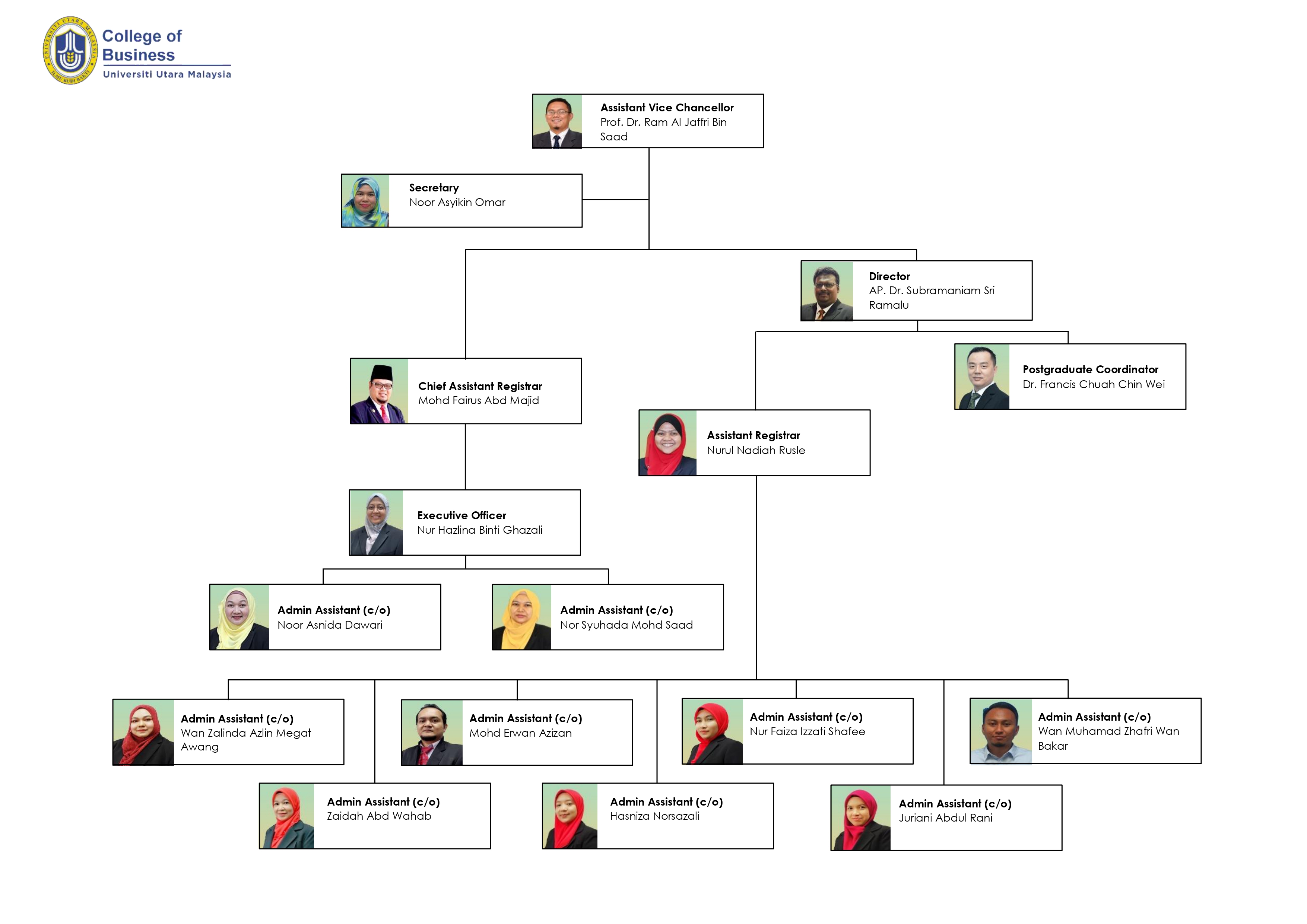 CLIENT'S CHARTER
CLIENT'S CHARTER
1. We are the committed to provide the best service to customer with an emphasis on the following aspects:
Friendly and with high integrity
Fair and thorough
Fast and accurate
Responsive and flexible to environment
2. To provide a conducive environment to establishing working process
3. Leading services on the following aspects:
Culture of Knowledge
Continuous Improvement
4. Applying the slogan "ILMU BUDI BAKTI" as the value of live